Version 1.7.0
December 16, 2021
We all handle our pantry and fridge in our own way. That's why we've been working on some new customization-focused features so you can personalize Kiff to suit your needs better.
Home filters
Visit the new Filters option inside the settings and add, reorder or remove filters to customize your home screen. On top of that, we have added some additional ones.
Widgets
Long-press any widget to access the new edition mode, to keep an eye on those perishables that go to waste faster, like fruits or vegetables, directly on your phone's home screen. If the edit options don't appear, remove the widget and add it again, that should do the trick!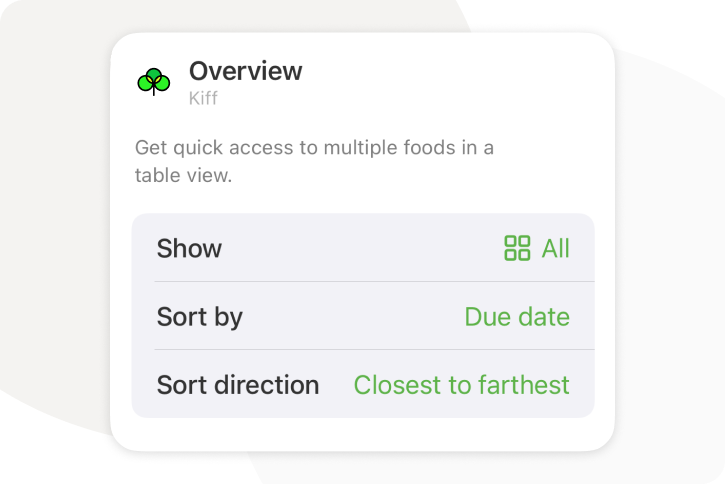 Add multiple units on each scan
Some products come in packs, and every time we scan them, we have to add their units manually. Now you can define the amount of units to add on each scan in the food catalog under the new "Add multiple units at once" feature. Every time you scan the product, these units will be added directly to the stock.
Improvements
If you edit a food's name, icon, or category from the food detail view, the changes will be saved to the food catalog and applied to any new items added.
You can search for any food by barcode number.
Fixed an issue with top consumed and top wasted charts inside the Consumption Insights. If you had less than five items, you may have noticed that the view was larger than it should have.
Other minor adjustments and improvements.
See you in the next update! 👋